Support Our Industry

Steel is the backbone of Australia's construction, infrastructure and manufacturing sectors. It's shaped the image of this great nation in the form of bridges, motorways, stadiums – where we play, where we work and where we live.
Over 100,000 Australians are employed in steel
With the current economic climate, it is important now more than ever before, to support your local steel industry. It's helped our economy when times have been tough by creating jobs and according to the Australian Bureau of Statistics the industry employs 110,000 Australians.   Read More Here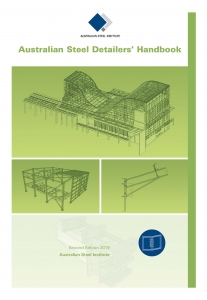 Australian Steel Detailers' Handbook
Bookshop description:
This brand new edition substantially updates the first edition which provided a focus primarily on manual methods of drafting. Whilst retaining the context of drawing presentation in 2D format, this current edition of the Handbook recognises the significant innovation occurring in steel detailing practice, with the use of advanced 3D models, laser scanning and virtual reality combining to point towards a substantial realignment of industry practice and an increased relevance of steel detailers in the structural steelwork supply chain.
The purpose of this handbook is to provide sufficient information for a trainee structural steel detailer to learn the fundamentals of how to detail most members and connections in a simple steel-framed building. It covers the process of structural steelwork detailing, commencing with the fundamentals of structural steel and how to lay out steel detail drawings, continuing with the types and behaviour of bolts and welds and standardisation of connections then providing detail on a range of structural component types, such as beams, columns, trusses, bracing, purlins, girts, portal frames and stairs. The Handbook concludes by discussing detailing for economy.
A significant new addition to this updated edition is the ability to download electronic files associated with the book content, including a valuable complete 3D model of a steel framed building in IFC format, which users will be able to bring into their steel detailing software, review and interact with.
Standardised Structural Connections
Bookshop description:
The guide has been revised and refreshed after having been out of print for many years, to provide a concise reference on good practice and standardisation in connection configuration, applicable to stakeholders such as steel detailers, engineering students and suppliers of components associated with steel connections. It is an essential companion to the newly launched edition of 'Steel Detailers' Handbook'.
Industry recognition of your experience
Ongoing professional development
Develop a network
of peers
Socialise with colleagues at events
Author: Dr Vinay Domal, Lecturer Civil Structural Applied Engineering,…
https://www.austcma.org.au/wp-content/uploads/2020/05/AdobeStock_166052169.jpeg
3839
5759
admin
https://www.austcma.org.au/wp-content/uploads/2018/09/ACMA_Logo_web.png
admin
2020-05-11 12:08:23
2020-06-09 23:54:20
The vocational outcome to integrate the design workflow
The member profile for our 2020 Autumn Edition of the Eye for…
https://www.austcma.org.au/wp-content/uploads/2020/04/20200501_080051-1.jpg
983
1310
admin
https://www.austcma.org.au/wp-content/uploads/2018/09/ACMA_Logo_web.png
admin
2020-05-10 09:09:02
2020-06-09 23:54:16
Member Profile – Joe Biggs
Terry Bowness, business owner of Amalgamated Drafting and Steel…
https://www.austcma.org.au/wp-content/uploads/2020/05/Vale-Terry-Bowness.png
603
578
admin
https://www.austcma.org.au/wp-content/uploads/2018/09/ACMA_Logo_web.png
admin
2020-05-07 04:28:59
2020-06-09 23:54:11
Terry Bowness